Fantasia Fondant Yellow is used to cover and decorate cakes, cupcakes, cookies, and other dessert items. Create custom-decorated finishes for your cakes
Fantasia Fondant Yellow offers superior resistance to drying out, cracking, tearing, breaking, and 'elephant skin,' giving a baker a long work time to bring their vision to life with ease.
Fantasia Fondant is formulated with high elasticity and is extensible, making it easy to work with and perform in silicon cake molds, and fondant sheeters.
It has a mild vanilla flavor similar to a marshmallow. It is shelf-stable for easy storage until needed.
2.2 LB. Bag
Vegan
Non-GMO
Zero-trans-fat
Kosher Parve and Halal
introducing Fantasia Fondant in Yellow 2.2 LB
Fantasia Fondant is a popular choice for professional bakers and cake decorators. This particular shade, Yellow 2.2 LB, is a vibrant and versatile color that can be used for a variety of cake designs.
Vibrant and Bold
The Yellow 2.2 LB shade is a bright and bold hue that will stand out on any cake. It is perfect for creating fun and lively designs for birthdays, baby showers, and other festive occasions.
Smooth and Elastic Texture
Fantasia Fondant has a smooth and elastic texture that makes it easy to work with. It can be rolled out thin for intricate details or used to cover entire cakes with ease.
No Cracking or Tearing
This fondant has a unique formula that ensures it will not crack or tear when used on cakes. This makes it a reliable choice for professional bakers who need a flawless finish.
Long-Lasting Freshness
The Yellow 2.2 LB shade of Fantasia Fondant has a long-lasting freshness that allows it to be stored for long periods of time without drying out or cracking. This is perfect for busy bakers who need to prepare ahead of time.
Allergen-Free
This fondant is allergen-free, making it a safe choice for those with food allergies. It is also gluten-free, nut-free, and dairy-free.
Easy to Customize
Fantasia Fondant can be easily customized with food coloring to create custom shades.
This allows bakers to create unique designs for their clients.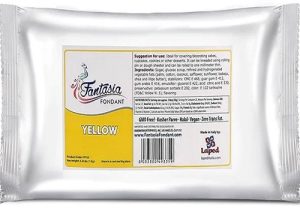 Fantasia Fondant-Yellow