T-Rex Dinosaur Cookie Cutter is made of Tin metal and is perfect for cookie dough, fruits, crafts, Clay, and more. Hand wash.
Made in the USA by Ann Clack
Certified Safe for Lead and Cadmium.
US-made tin-plated Steel.
Hand wash, not dishwasher safe.
Great for cut cookies, soft fruits, sandwiches, and crafts.
Overview of T-Rex Dinosaur Cookie Cutter

The T-Rex Dinosaur Cookie Cutter is a fun kitchen tool that allows you to create delicious cookies in the shape of a popular dinosaur.

This cutter measures 4 5/8 inches, making it the perfect size for a variety of cookie recipes. Here are some key features and benefits of this cookie-cutter:

Size and Shape

Measures 4 5/8 inches in length and width
Creates a T-Rex shape that is easy to recognize
Ideal size for a variety of cookie recipes

Material

Made from durable, food-grade stainless steel
Easy to clean and dishwasher safe
Resists rust and corrosion

Design

Smooth edges for comfortable handling
Sharp cutting edge for clean cuts
A detailed impression of a T-Rex dinosaur

Uses

Great for making cookies for dinosaur-themed parties
Perfect for baking treats for kids who love dinosaurs
A fun addition to any cookie-cutter collection

Conclusion

In conclusion, the T-Rex Dinosaur Cookie Cutter is a great kitchen tool for anyone who loves baking and dinosaurs. Its durable tin metal construction, comfortable design, and sharp cutting edge make it easy to use and clean. Whether you're baking cookies for a dinosaur-themed party or just for fun, this cookie cutter is sure to be a hit. So why not add it to your collection today and start baking some delicious T-Rex-shaped cookies?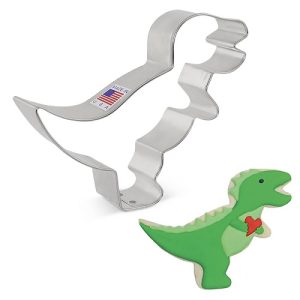 https://annclarkcookiecutters.com/