Orchid Merckens Chocolate 1-Pound Coating Melting Wafers melting chocolate, use these Fresh and Delicious Purple wafers in all your candy or silicone molds.
Ingredients: Sugar, Partially Hydrogenated Palm Kernel & Cottonseed oils, Nonfat Dry Milk, Cocoa Milk, Cocoa, Glyceryl Lacto Esters of Fatty Acids, Soy Lecithin, & Salt.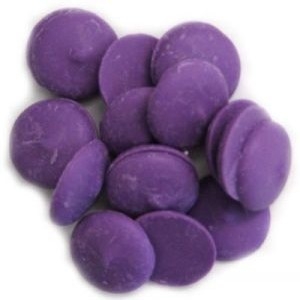 Chocolate may melt in shipping if ordered during warmer temperatures. If it melts during shipping, it can be remelted.

Merckens Orchid milk chocolate is perfect to use for melting, fondue, dipping, baking, dessert decorating chocolate-covered strawberries, and more!

Merckens milk chocolate melts extremely smooth and creamy.